Cakes are excellent gifts for all occasions. Whether it is your birthday, anniversary, farewell, graduation celebration or reunion, cakes are the right choice.
Cakes are considered to be the ideal gifting option because of various reasons
The sweetness of the cake and its beautiful design can make any person happy.
Cake cutting is a part of birthday celebration thus making it an ideal gift for birthdays.
Cakes come in different flavors and can be gifted according to the preference of the person being gifted.
Customizing the cake for any occasion is possible.
Till a century back, cakes could be purchased only through a bake shop. You need to place an order beforehand, and cakes used to be made as per your requirement.
The opening of various online cake delivery shops has changed the gifting scenario completely. Now it is possible to order birthday cake online which will then be delivered to the address specified. It is also possible to customize the cakes at the click of a mouse.
If you are looking for birthday cake delivery, here are few from our pastel cakes collection:
Chocolate Hazelnut Cake: This cake is a chocoholic's delight. It comes with a moist chocolate cake with a chocolate-hazelnut filling that is sure to shake up your senses. The beautiful chocolate butter icing on top of the cake provides an elegant look to it.
This cake would make an ideal gift for an anniversary, birthday or a special gathering in office. It is available in 1kg and can serve up to 8 people.
Red Velvet Sponge Cake: A delight to your eyes and delectable for your taste buds, the Red Velvet Sponge Cake is an ideal gift for all occasions. The moist and spongy vanilla cake with cream cheese and vanilla filing make the red velvet cake a favorite with all.
Made by pastel cake, the red velvet sponge cake is freshly baked and is available in 1 kg size. It can serve up to 8 people.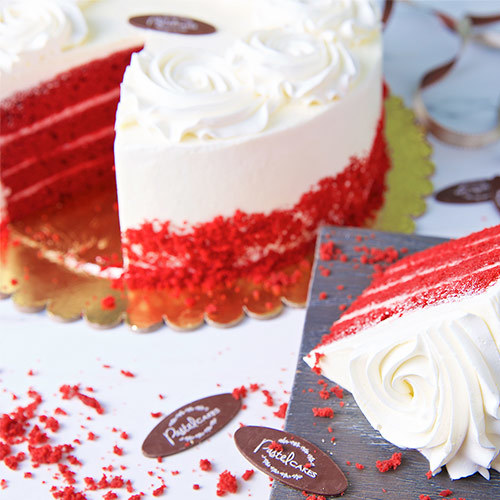 KitKat Fudge Cake: This cake would make an ideal gift for a KitKat lover. The cake comes with a moist and delicious fudge cake which is topped with a rich chocolate buttercream frosting and wrapped with vertically placed KitKat. The rose swirls on top of the cake add to its beauty.
If you are looking for online birthday cake delivery, the KitKat fudge cake would be the right choice. It is available in 1 kg size and can serve up to 8 people.
Vanilla Sponge Layered Cake: This simple yet elegant cake comes with moist and fresh vanilla cake as the base with vanilla rose-shaped frosting on the top.
This cake would make an excellent gift for a birthday, anniversary or any occasion that deserves a cake. Made by pastel cakes, this is freshly baked on order and comes in 1kg size. It serves 8-10 people.
Whatever the type of cake you want; whether it is pastel cupcake or cheesecakes; you are sure to get it through our online shop. Our top 10 cakes form pastel cakes is sure to add a touch of sweetness to all celebrations in your life.